ACTION FOCUS
FOCUS*
Start your own Action Focus, available with a click.
GOAL:
To increase awareness of specific themes or activities.
USAGE:
Set of online and offline tools with clear instructions.
RESULT:
Increase effectiveness and knowledge of the subject.
HSE ITEMS
INFORM*
Concise and to the point 37+ HSE information topics for daily use.
GOAL:
To allow companies to focus on a specific HSE subject.
USAGE:
Daily, for information, presentations, and toolbox meetings.
RESULT:
Increased knowledge and alertness during work.
TRAINING & REFRESHER
COMPETENCE*
Always the right competence, 37+ Virtual training modules for the frontline employees in any industry/ sector.
GOAL:
To provide mandatory induction training and refreshers with registration of results and an overview in a Learning and Registration system (LARS)
USAGE:
USAGE: Online interactive training that can be accessed anytime, anywhere and on any device.
RESULT:
RESULT: Cost effective fulfillment of standard HSE training requirements, managed via an easily navigated portal.
COMMUNICATION TOOLS
COMMUNICATE*
Easy-to-use tools/ components to achieve goals and improve results.
GOAL:
To inform, update and provide insight within teams and organizations.
USAGE:
Daily and easy to use.
RESULT:
Providing insight and thus obtaining better results.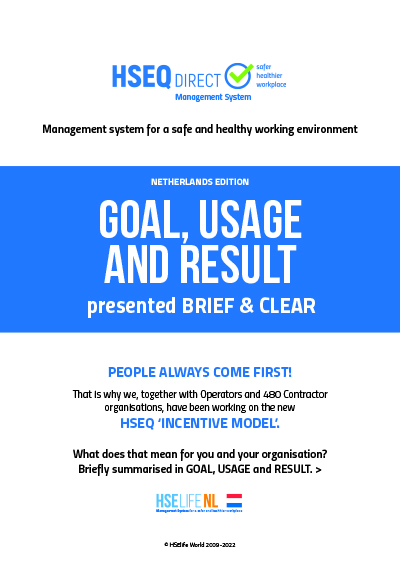 GOAL, USAGE AND RESULT
BRIEF & CLEAR, in vision
Together with Companies and 480 Contractor organizations, we worked on the new 'HSEQ INCENTIVE MODEL'.
What does that mean for you and your organization?
READ THE BRIEF & CLEAR BROCHURE
BECOME A MEMBER? SUPPORT!
HSElife NL is an online all-in-one Health, Safety, Environment and Quality platform that includes interactive learning, certification, communication and registration. Important and applicable for every high-risk work environment. Low cost / Cost-efficient! Important and applicable for every high-risk work environment. Low cost / Cost-efficient!
GOAL:
Everyone deserves a safe and healthy work environment.
USAGE:
Easily deployed in Teams and Organizations.
RESULT:
Maintaining/updating acquired knowledge and reducing accidents.
The HSElife NL platform is available in Dutch and English.