Campaigns
Every quarter we take a closer look at issues related to HSE. We wish to ensure that anyone working in the Oil and Gas industry increases his knowledge of HSE.

GO TO THE CAMPAIGNS AND GET TO WORK >
HSE Items
A digital library of harmonized HSE documents you can use in the preparation for your work, for example during the toolbox meeting and during work. In the library you'll find A6 brochures, onscreen presentations (including five knowledge questions) and videos.

CHECK OUT ALL THE HSE SUBJECTS >
TRAINING & REFRESHER
On this page you'll find several mandatory interactive training videos and refresher videos. By following the refreshers you keep your knowledge level up to date.

SELECT THE TRAINING AND DO THE QUESTIONNAIRE >
Tools & Resources
Here you'll find HSE programs you can use in your organization and digital documents to communicate about HSElife NL. Another important means of communication is the HSElife magazine. This magazine is an important contribution to the development of harmonization. Here you read exactly what is said about the Oil and Gas Industry.

BROWSE ALL TOOLS & RESOURCES >
Through this video channel we will present you everything you want to know about working safely in the Oil & Gas industry.
WATCH THE VIDEO >
WHERE CAN I FIND WHAT?
Are you looking for a specific item, a training or refresher, a video or the latest edition of the newsletter? The sitemap shows a list of all pages and components and the direct link to it.

TAKE A LOOK AT THE SITEMAP >
Watch our promotional videos
By clicking on the logos below you can watch our short promotional videos. The videos will open in separate window. To go back to this page, just close the video window.

The HSElife Academy helps the men and women on the shop floor to keep the level of safety knowledge, both Onshore and Offshore as well as Office. It's a perfect way to reduce the risk of incidents.

FOR MORE INFORMATION: GO TO THE HSELIFE ACADEMY >

HSElife Learning and Registration System (LARS) is an online training registration system in which the training results are registered. Accessible on any device, anytime, anyplace. Insight into employee qualifications. Employability scheme always at hand. Possibility to take any training program at any moment.

Go to Lars >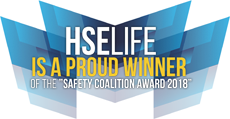 PARTICIPATING OPERATORS, Contractors
AND SUPPORTING ORGANISATIONS
HSElife is a proud winner of "Safety Coalition of the Year 2018 Award" and we are also very proud of all our Coalition partners for this amazing achievement. To see which Operators, Contractors and Supporting Organisations participate in this harmonisation initiative please click on the respective links below.